Auto reply is one of the popular feature that almost all the messaging services provide. iMessage is no exception to that. With the latest version of the iOS, you can set and send the auto response while you are out of office. It gives the customisation options like to whom you can send the auto response and all. So let's check out and try this option while you are driving or on a vacation or when you don't want to get disturbed by the flood of messages when you are not available.
Apple's iMessage is a messaging service, but it is so much more than just an alternative to the other messaging apps out there. While most other chat services focus on conversation and quick back and forth messages, iMessage takes things up a notch by letting users send audio clips, videos, GIFs and even money through Apple Wallet using just your iPhone or iPad. And as if that wasn't enough already, you can now set automatic replies for when you're too busy to write back.
It might seem like something from science fiction, but trust us – setting it up is easier than you think! Just follow these simple steps: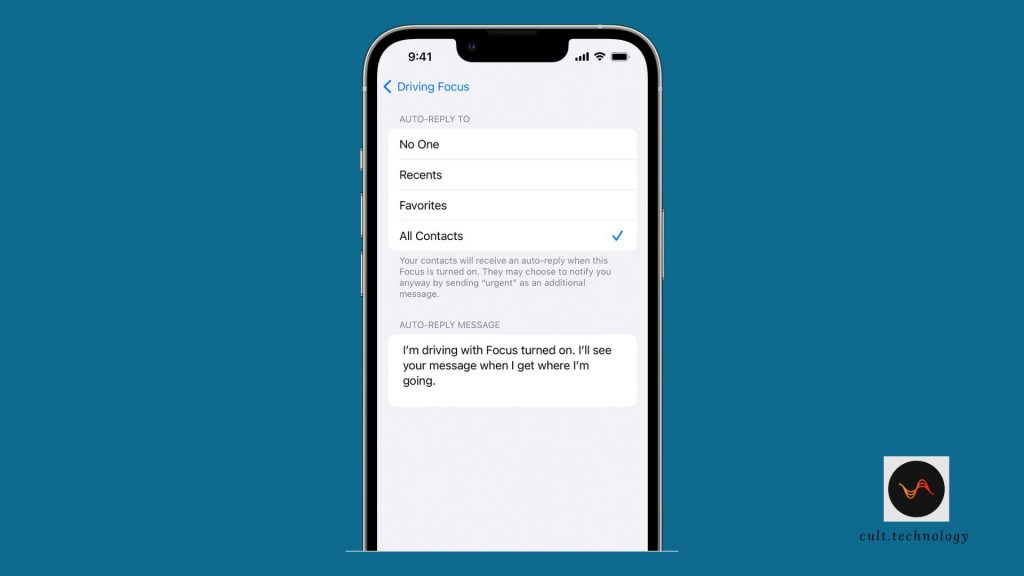 How to set iMessage Auto Reply text?
Apple makes this feature pretty easy to find and use.
Start off by opening the Settings app
Scroll down to find Focus option. Tap on it.
Choose Driving mode from the options. If you don't find Driving option under Focus, click on + icon at the top right corner and select the Driving mode.
Once in there, you'll see a new option that says Auto-Reply. Click on it.
Choose the Contacts for which you can enable Automatic replies while you are using Driving mode. Select All Contacts option from here.
Just beneath that, Find auto-reply message, add the custom message saying that you are not available to text back right at this moment.
Now if you enable the Focus Driving status option, all the text you will be getting will be responded with the auto response message you have set.
Once this feature is enabled, three options will become available at the bottom of your screen: car , which will automatically send a Do Not Disturb message to anyone who's messaging you; away , which sends a quick "I'm busy right now" reply back to those messengers; and custom , which lets you type your own auto-reply phrase.
How do I customize my Auto Reply?
You may have noticed the keyboard pop up when we mentioned the third option above – well, that's how you can enter your custom automatic reply. Just tap on the Custom option, and a keyboard will pop up at the bottom of your screen. Type in a phrase that covers whatever it is you're busy with right now – going to bed? Sleeping. Going out to dinner? Out to dinner. Having a conversation with someone else? In a meeting.
The only downside here is that iMessage doesn't offer any built-in shortcuts for common phrases or responses, but typing them in shouldn't take more than a few seconds anyway.
One more customisation option available with this is, you can control to whom you can send the custom auto response. There are different options available under the Auto Reply option.
No One: This will not send any auto reply to your texts.
Recents: Choosing this option will send the auto reply text to only the contacts whom you have contacted in the last 1 day
Favourites: This is the popular option where you can choose the list of favourite contacts and iMessage auto reply will be sent to those contacts only.
All Contacts: If you choose this option, all the contacts will be getting the Auto reply text.
Once you've set up your reply, simply slide from left to right on your iPhone's screen to send it! Now, when anyone messages you they'll get an autoreply letting them know where you are, what's keeping you busy or whatever phrase you entered.
What if I want to end this feature?
If set up an automatic reply that you decide you no longer want, it's easy to stop the service. Just head back into Settings > Focus and tap on Delete the Focus to Automatically Replying the texts. You'll be able to re-enable it by tapping on Turn On again later, but for now it will be disabled until you do so.
Automatic Reply is a surefire way of getting important messages while ensuring friends won't get concerned about why you haven't replied yet. It's best used when heading out or catching some Zs , but can also be effective during any other times that might keep you from typing a quick response back.
And that's all there is to it! While iMessage has been around for a while now, Apple keeps adding in new features and conveniences, so be sure to stay up-to-date with how it can become even more useful than ever before.
Frequently Asked Questions:
1, Q: Can the auto-reply message be customized for different contacts?
A: Unfortunately, as of now, the iPhone only allows one universal auto-reply message that will be sent to all contacts when the feature is activated.
2. Q: How can I set up an auto-reply for iMessage on my iPhone?
A: You can set up an auto-reply for iMessages using the Do Not Disturb While Driving feature. You can activate this even when you're not driving, and it can auto-reply to incoming messages.
3. Q: Will the auto-reply feature work if my iPhone is switched off?
A: No, the auto-reply feature using the Do Not Disturb While Driving function does not work when the iPhone is switched off.
4. Q: Can I choose which contacts receive the auto-reply message?
A: Yes, in the settings of the Do Not Disturb While Driving feature, you can specify whether you want the auto-reply message to be sent to all contacts, only to those in your Favorites, or to recent contacts.
Hope we are helpful with setting up iMessage auto reply on your iPhone. For more tips like this, follow cult.technology!!