In this evolving realm of fashion, we have some brands which define fashion and are recognized as trendsetters. Shein, Zaful and Romwe are a few well-known lifestyles and fashion brands across the globe. We're going to compare these top brands with one another. Which brand stands out in Romwe vs Shein, which is better, Zaful or Shein?
We're here to conclude this rivalry of lifestyle brands, and to assist you to make a wise selection to choose your closet companion. We're going to compare these brands based on quality, availability, service and price.
Comparing these brands on the following metrics will provide us with clarity on these frequently asked questions related to these brands. Romwe vs Shein, Zaful or Shein? And, is Romwe or Shein better?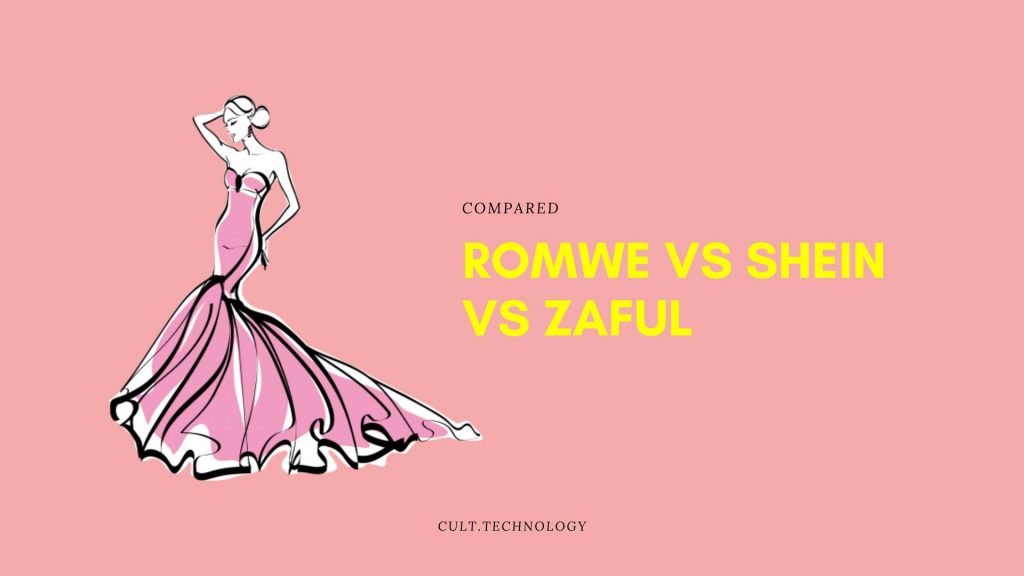 Shein vs Zaful vs Romwe: Details about the brand
Before jumping onto the actual comparison, it's always a wise choice to find out the background of these brands. So, let's find out what these brands are and what they stand for.
Shein is a lifestyle and fashion brand which was founded in 2012. Shein is a highly progressed fashion brand, since its launch the brand maintains to deliver trendy fashion. Due to its advanced supply chain and manufacturing technology, Shein has strengthened its position in global markets.
Shein operates with 10,000 employees worldwide, which is one of the reasons for delivering the premium buying experience to their customers.
Like Shein, Zaful is a highly recognized fashion and lifestyle brand, which excels in defining the fashion to its wide group of consumers worldwide.
Zaful has a personalised design team, which focuses on the ongoing trends and aims to bring out the desired collection for their consumers. Zaful also operates with 24/7 customer service for their customers. With its presence globally Zaful has been successful in catering to the fashion needs of people across the globe.
If you ask, which brand to choose Zaful or Shein? Then it's a tough call to make, to make it easier keep reading this article.
Romwe has been winning the hearts of its customers since 2010. Romwe is known to deliver aesthetic clothing at affordable prices.
Romwe creates fashion and delivers to its consumers worldwide, the top-rated manufacturing unit and research team merge to bring comfortable clothes and catchy clothes to the market.
Romwe is often compared to Shein, in this comparison between Romwe vs Shein, Shein has more popularity, but Romwe is known for its affordable prices with quality products.
Shein vs Zaful vs Romwe: Compared
Here is an detailed comparison of Shein vs Zaful vs Romwe at a glance
| Aspect | Shein | Zaful | Romwe |
| --- | --- | --- | --- |
| Quality | Trendy styles but inconsistent quality | High quality apparel | Affordable, good quality |
| Availability | Operates in 150+ countries | Operates in 260 countries | Global presence |
| Customer Experience | Good, efficient supply chain | Excellent, 24/7 support | Great, known for affordable clothing |
| Price | Affordable with occasional quality compromise | High-quality at affordable prices | Best prices with regular discounts |
| Brand Age | Founded in 2012 | Established earlier than Shein | Started in 2010 |
| Product Range | Wide variety of styles | Broad range, quality focus | Affordable and trendy clothes |
| Shipping | Efficient worldwide delivery | Advanced global shipping lines | Extensive shipping options |
| Return Policy | Easy returns but may vary by country | Simple return policy | Customer-friendly return policy |
| Discounts & Offers | Regular offers, country-specific | Periodic discounts | Regular attractive discounts |
Now, let's understand a few of the aspects in detail.
1. Quality of clothes
These brands are known for their quality and their innovation in fashion. However, we can find out the one which delivers the best quality amongst these 3 brands.
Shein– Shein is known for its catchy designs. The new age generation is inclined toward Shein as a brand, due to its offering of street fashion apparel and trendy accessories. However, people are dicy when it comes to quality, based on the reviews, Shein sometimes compromises on their quality.
Zaful– Zaful is a brand known for its quality. Zaful delivers an excellent range of fashion apparel and accessories, with maintaining its quality. Zaful dominates the aspect of quality among these three brands.
Romwe– Romwe delivers desired clothing at affordable prices. Romwe is liked by millions of people across the globe, due to its quality and pocket-friendly prices. There are a lot of romwe alternatives in the market with perfect quality at affordable price ranges.
2. Availability
These brands have a presence in several countries. In a limited time, these brands have managed to reach the corners of the world. However, these brands are still alien to people in several countries. So, let's find out their availability worldwide.
Shein– Shein operates in 150+ countries. Due to its effective supply chain, Shein delivers its products to millions of people. In the rivalry between Romwe vs Shein, Shein has a more effective supply chain and presence.
Zaful– Zaful operates in 260 countries. In the aspect of availability, if you ask Zaful or Shein? Then it's Zaful. Numbers define the result, with its advanced shipping lines, Zaful manages to deliver its products to such a wide array of people.
Romwe– Romwe operates worldwide to deliver its affordable fashion apparel. Romwe is a brand which is loved by the masses because of its attractive discount offers personalized for different countries.
3. Customer experience
Premium customer experience is what every brand aims to deliver. These three brands which operate through their website and mobile application, deliver their customers a premium experience.
Shein– Shein has been successful in providing their consumers a top-notch customer experience. Its flexible supply chain makes sure to deliver the products on time and in the desired condition
Zaful– Zaful is known for its premium customer experience. They provide 24/7 customer support, ensuring customers' queries and needs are addressed.
Romwe– when it comes to customer experience, the ultimate rivalry between Romwe vs Shein is dominated by Romwe. Romwe is known for its affordable clothing and premium customer service, which overall leads to a top-quality customer experience.
4. Price
Price is the deciding factor for the majority of people. In the competitive market, a brand needs to be conscious of its pricing range. Price can be the deciding factor of brand's success. So, let's find out the brand which provides the best products at best prices.
Shein– Shein received recognition due to its low prices and catchy collection of apparel. Shein has various discounts and cashback offers depending on the country, altogether Shein offers competitive prices, but somewhere compromises on quality as discussed earlier.
Zaful– Zaful delivers high-quality clothes at affordable prices. If you ask Zaful or Shein in terms of prices then Zaful stands out, due to its price offerings and top-notch quality.
Romwe– Romwe is the best in terms of pricing. You can find various discount offers and cash backs on Romwe's website and mobile application. Who wins in Romwe vs Shein? In terms of pricing, Romwe without a second thought.
Frequently Asked Questions
Which brand offers the best quality, Shein, Zaful, or Romwe?
Zaful generally stands out for its consistent quality. However, each brand has its strengths, and quality may vary depending on the specific item.
Who has the best global availability among Shein, Zaful, and Romwe?
Zaful, operating in over 260 countries, has the broadest reach globally, followed closely by Shein, which operates in over 150 countries.
Which brand is best for trendy fashion, Shein, Zaful, or Romwe?
All three brands are known for their trendy offerings, but Shein is particularly popular for its attention-grabbing, street fashion inspired designs.
Conclusion
You can consider every metric we used to compare these brands. Every brand has its uniqueness, it would be a subjective decision to conclude this comparison.
If you're looking for quality clothes with competitive prices then you can go with Zaful and Romwe. Meanwhile, Shein will provide you with attention-grabbing clothes at affordable prices.
So, this was our post on the comparison of Shein vs Zaful vs Romwe, we hope you found this post informative.