Instagram is one of the most user-extensive social media owned by Meta. Most of us possess a handle on Instagram. A huge number of people are connected by Instagram, as a result, we tend to use Instagram more to increase our connectivity. Whenever we want to vent out our true inner beings, we post stories, reels, or videos so that the world can see us.
Sometimes, many of us confront a situation where we can not post content on Instagram. The know-how of this process is unknown to most of its users. So, in this article, we will be discussing some general causes why Instagram is not allowing you to post and how can you fix the problem.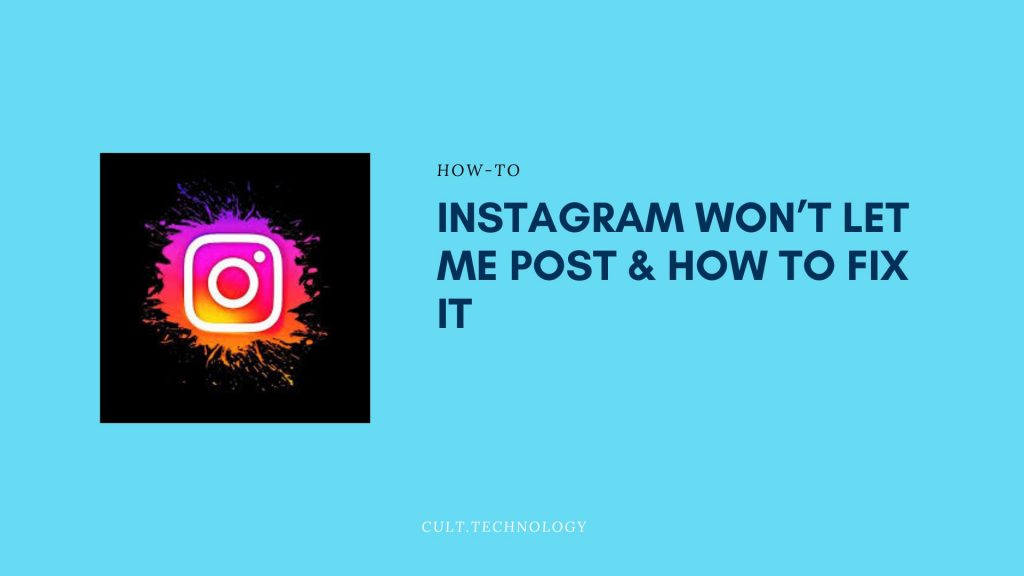 Why Instagram doesn't let post?
If you are facing difficulties in uploading pictures or videos on Instagram, there may be several reasons. While facing such problems, people usually update their Instagram apps. Besides, there may be something wrong with the cache memory of the app. For this purpose, you can clear your application's cache memory.
There are many other reasons which can create an issue and not let you put your media on your application.
You need to ensure that Instagram can access your device storage. If there is some problem in accessing your device storage, you cannot upload your photos and videos in your app.
Instagram has a limit on file size that is uploaded by people. If you choose such a file that crosses the limit of size, you will not be able to upload it.
If there is a poor internet connection in your area, your file will not be uploaded.
Besides, if you choose such a photo or video that is not recognised or identified by Instagram, there will be issues.
The content of your video or image might be violating the terms and conditions of Instagram.
You choose to include over 30 hashtags in a single post.
If your Instagram account is temporarily blocked, banned or disabled from posting activity, you can not upload photos, videos or other files to your account.
Instagram has set limits on the timing of videos that are uploaded to IGTV or posted. You can only upload 60 seconds video clip in any post and 15 minutes video for IGTV uploads on your mobile application. In the case of desktop, you can upload a 60-minute video on IGTV. You can not post long videos.
Why Instagram won't allow posting multiple photos or videos?
You can post multiple photos and videos on your Instagram app and enjoy social media. But, you can face difficulties in uploading multiple media for many reasons.
At first, you need to take care of your Application Background Settings. If the Background Refresh option is turned off, the uploading process may stop while you switch to another application or go back to the home screen on your device.
Sometimes, Instagram may block your account temporarily for spamming issues when you are uploading multiple photos or videos over frequently. This issue is normal because this ban stays for a couple of minutes or an hour. After some time, you can freely upload multiple files.
Also, you need to check whether your videos are not too long.
Why Instagram doesn't let post comments?
The various reason may prevent you to post comments. Some of these are-
If you have mentioned more than 5 people in a single comment, you can not post that comment in a post.
If you are blocked by the person who owns the post you are trying to put a comment on.
You are using such words banned by Instagram.
If you have already posted multiple and duplicate comments, you will not be able to post another comment.
If you spam comments on numerous big accounts, you may face difficulties.
Lastly, if the Instagram is down or you are in an area with poor internet connection.
Why Instagram doesn't let me post music on stories?
This problem is faced when you didn't update your Instagram application. Also, there are some regions where the feature of posting music in a story is not available. In such a case, you can use VPN to upload music to your Instagram stories.
Why Instagram doesn't let post stories?
Apart from the above reasons for difficulties in posting photos, there is a specific reason that won't let you post stories on Instagram.
If you are trying to post your story from another's account, you have to make sure that the account is public. You can not share stories from any private account. Besides, you have to be tagged in the story from you from a public account.
Also, you need a good internet connection if you want to upload stories.
How to fix the above-mentioned problems?
In general, there are some handy ways to solve these problems. But, firstly, you have to sort out why you are facing the problem because the solution varies from problem to problem. Here is a detailed discussion of various methods.
Reboot your device
Sometimes, due to technical issues with your device, you may encounter problems. So, try to reboot your device. Android users can press and hold their power button until the screen goes numb, whereas, ios users have to press the power button along with the volume up or down key.
Check the file size of the content
Sometimes, large files can face hurdles while being uploaded. HD photos or high graphical videos directly imported from your device may take time. Hence, check the file size and even the aspect ratio of your content, for instance, the size and length of the video should not exceed 4 GB and 60 seconds respectively because Instagram does not allow it beyond this limit.
The preferred aspect ratio for video is 16:9, whereas, for photos, the aspect ratios are 1:1, 1.91:1, and 4:5 for square, landscape, and vertical images respectively.
The pixel size of a photo may play the part in the failure. Check the ideal pixel size from Instagram guidelines.
Check Your Internet connection
This is the most significant component. Poor connection prevails sometimes and as a result, you can never be able to post on Instagram. Make sure you have healthy connectivity. If not, fix this problem first and the second one will follow the same route.
Comply with Instagram's Community Guidelines
In some cases, you may be at your wit's end sorting out the issue. For your information, Instagram follows strict community guidelines. Any post violating the guidelines is bound to be deleted. But, sometimes Instagram prevents the guidelines-violating content in the first place.
To troubleshoot the problem, go through Instagram's community guidelines. Make sure that your post is not violative of any guidelines.
Clear Cache Files
This can be a handy trick to solve the problem. The deposition of too many cache files may be the culprit. Follow the steps as instructed to clear catch files-
Android devices
Go to the "setting" to find "application management" there.
On clicking, you will see a list of installed apps, look for Instagram and tap on it.
Thence, go to the "storage" and clear cache memory.
iPhone devices
Go to the "settings" and then enter "general settings"
Then select "iPhone storage" to find Instagram from the list.
Tap on "offload app" and voila! It's done.
Uninstall and Reinstall
The outdated version may malfunction. So, keep your Instagram app updated always. In some cases, outdated app ceases to operate.
Under such circumstances, you can update the app or uninstall the app to install it again as recommended by Instagram.
Check Instagram Data settings
Instagram has an option of data saving. Occasionally, the data saver is turned on and as a result, Instagram won't let you post, share reels, or even comment many times on a post.
You should check the data settings once and if the data saver is on, then turn it off. You will find the issues are addressed already.
Offload your phone storage
Having too much load on the phone memory may lead to the malfunction of Instagram, as a result, you may not be able to continue your activities on Instagram.
So, free up your phone memory as much as possible for troubleshooting.
Something Wrong with your account or the server
Instagram can block or temporarily deactivate your account for breaking guidelines, for instance, using third-party apps to increase followers, mass following and unfollowing, spreading hatred through comments, etc.
Check the status of your account, if it is temporarily blocked then wait but if it is deleted by Instagram then best of luck with your new Instagram handle.
Sometimes, Instagram remains down for hours. If such a thing happens then you will get to know. If everyone is dejected with the same problem, then one less thing to worry about in your life.
Uninstall every application that can access your account
Some applications can access your Instagram account and if you are using both simultaneously then problems can occur.
So, uninstall every application that can access your account.
So, this is all about why Instagram Won't let you post and how to fix it. We anticipate that we have addressed each issue and solution one by one. Let us know if you need any further assistance. Happy reading!