Discover the simple yet effective steps to get iPhone emojis on your Android device, transforming your texting experience with the unique style of Apple's emoticons.
Emojis have become a ubiquitous part of conversations in the digital era. Joyous, jaded, flustered, frustrated – there's an emoji for every emotion, not to mention for animals ranging from the humble ladybug to the mighty elephant, and devices as diverse as cassettes, compasses and cable cars. You want to put any word into pictures – emojis have you covered!
Anyone who has used or has had access to both an iPhone and Android devices will have noticed that the same emojis look different on the different operating systems. This is because both the operating systems have their own distinctive visual interface, and the manufacturers want their respective emojis to fit in with the overall appearance of the phone.
Usually, the organic emojis of the respective operating systems look good enough, but if you used an iPhone before switching over to Android, you might be missing the look of the iPhone emojis. Alternately, you might just like the look of the iPhone emojis after seeing them on someone else's device! Either way, you'll be wanting to learn how you can use iPhone emojis on Android.
To help you out, we've compiled a list of the simplest, most straightforward ways to gain access to iPhone emojis on your Android device. So just lean back, relax, and keep reading – we've got the answers to all your questions!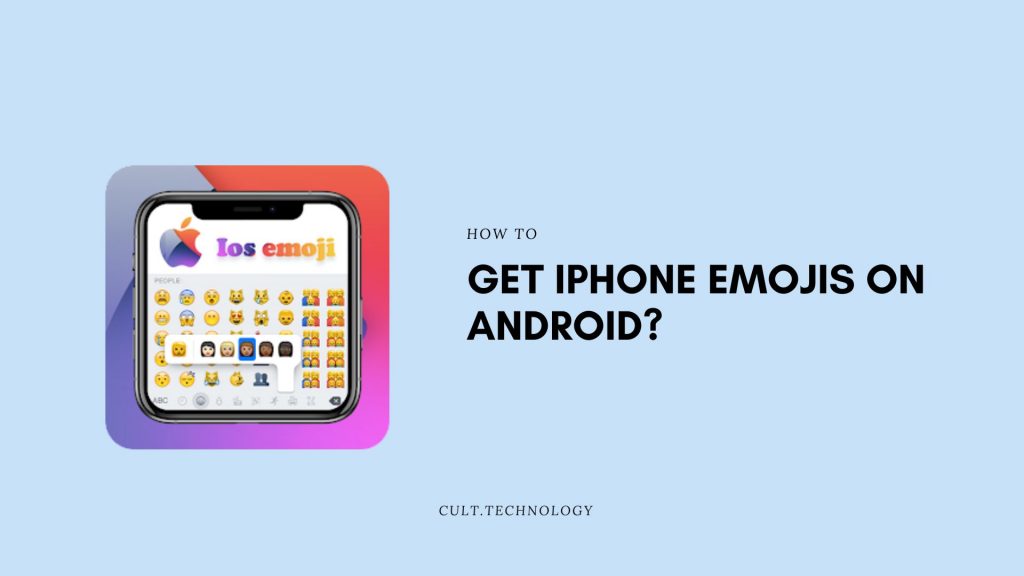 Why are iPhone and Android emojis different in appearance?
Emojis on every platform across the world are created according to some standard rules, which were devised by a body known as the Unicode Consortium. Founded in 2007, Unicode Consortium is a non-profit organisation that works to ensure that systems of text and other visual forms of communication (such as emojis) are standardised and understandable across the world.
As a result of Unicode's rules, emojis across different operating systems will look broadly similar, so that you can more or less tell what an emoji is supposed to represent.
However, Unicode's standards are very general, and leave individual designers a lot of scope to express themselves and differentiate their creations. As a result, the developers of various different operating systems – not just Apple and Android, but even others like Mozilla, as well as social media platforms like Facebook and Twitter, have designed distinct looking emojis to represent the same emotion, situation or thing.
For example, just consider the different forms of the "gun" emoji: on iPhone it's a toy gun, on Google it's a water gun and on Mozilla it's an actual revolver!
How can I get iPhone emojis on Android?
If you want to get access to the plethora of iPhone emojis on your Android device, you can try out any one of the two methods described below:
Installing an emoji app / emoji keyboard:
This is perhaps the most straightforward way to get a new collection of emojis on your phone, as it doesn't require you to tinker too much with the technical specifications of your device in any way.
However, be aware that you won't get exactly the same emojis as the ones seen on iOS; if you look around for a bit, you can get ones that are similar enough so as to not really make a difference.
Here, we'll be discussing four different apps you can try out, namely
Kika Keyboard
Gboard
Emoji Fonts for FlipFont 10
FancyKey
Note that the later two are emoji font apps, which will work successfully only if your phone allows third-party apps to alter its default font type.
Installing Kika Keyboard:
Step 1: Open Google Play Store, and search for "Kika Keyboard" in the search bar.
Step 2: Find "Kika Keyboard 2021 – Emoji Keyboard" and click on "Install" to initiate the download process.
Step 3: Once the installation is successfully completed, open the app. You'll see a button to "Enable Kika Keyboard", click on it.
Step 4: Select the toggle to activate Kika Keyboard.
Step 5: A dialog box will ask you if you finally want to "use Kika Keyboard." Click on the "Activate" option to indicate your agreement.
Step 6: Open Settings on your device. Navigate to Additional Settings / Languages and Input (this depends on the version of your device), and find the Keyboard and Input Method tab.
Step 7: Click on Current Keyboard, and choose Kika Keyboard. You're done!
Installation of Gboard:
Step 1: Find "Gboard – the Google Keyboard" on the Google Play Store and download it.
Step 2: Open the app once you've completed the installation, and click on "Enable in Settings."
Step 3: Choose Gboard as your default keyboard.
Step 4: Open the Settings app, navigate to Additional Settings, then Keyboard and Input Method.
Step 5: Open Current Keyboard and choose Gboard. You're done!
Installing Emoji Fonts for FlipFont 10:
Step 1: Find "Emoji Fonts for FlipFont 10" on the Google Play Store, and install it.
Step 2: Open your Settings app, navigate to Display, then Font Size and Style.
Step 3: Choose EmojiFont10 as your default font. You're done!
Installing FancyKey:
FancyKey is a keyboard app equipped with a variety of attractive customisations. It allows you to change emojis as well. Firstly, find "FancyKey" on the Google Play Store.
Download the app.
Open your phone's Settings app, navigate to Additional Settings / Language and Input, and click on the Virtual Keyboard option.
Open Manage Keyboards and select Fancy Key. A pop-up window will appear on your screen asking you to confirm your choice; click on "OK."
Then, open any app that requires you to use the keyboard (Whats App, Twitter etc.) and click on the keyboard icon in the lower right corner of the displayed on-screen keyboard.
You'll get an option to "Change Keyboard"; tap this and select FancyKey.
Finally, open the FancyKey app itself, go to Settings, and select Preferences
You'll see a section called Display; there, choose Emoji Styles.
You'll be presented with a variety of emoji styles; choose whichever one you think is the best, although in general the Twitter option is the most similar in appearance to iPhone emojis.
Click on "OK" to save your preferences. You're done! Note that using FancyKey might change the text font on your device as well, but this won't impact your device's performance in any way.
These are just some of the many emoji apps available on Google Play Store which you can use to get access to iPhone emojis. If these particular apps don't suit you, you can always make use of the multitude of other options available – the process to install and use them is more or less the same.
Get iPhone Emojis on Android by Rooting your device:
If you can't find an emoji app that satisfies your requirements, don't worry! There's an alternative method you can try out i.e. rooting your device.
"Rooting" is the colloquial term for any process whereby Android users try to obtain privileged control (termed "root access") over their device, to configure it to do things it otherwise couldn't –such as using iPhone emojis.
The fact that there is even a long-established term for this act should reassure you that you are definitely not the first one to run into issues with the limitations of your Android smartphone!
For this method to work, your device should allow rooting access, otherwise the app we'll be asking you to install will simply inform you that your device is incompatible at the time of installation. The app you will be using for rooting is iOS Emoji Magisk Module.
Follow these steps:
Find and download "iOS Emoji Magisk Module". You won't find it on Google Play Store, rather you'll need to search for it on Google. Make sure that it's the latest version.
For the download to go through, you'll need to give your phone permission to download apps from unknown sources. To do this, open the Settings app, navigate to Security, and enable downloads from unknown sources.
In your app drawer, find Magisk manager.
In the top left corner, you'll find the "hamburger menu", which looks something like this:
Click on it, and open Modules.
At the bottom, you'll notice a "+" icon; click on it. Doing so will open up File Manager.
In File Manager, find the iOS Emoji Magisk Module you've just downloaded, and click on it.
Restart your device to complete the rooting process.
You can now use iOS emojis on your Android phone!
Since you won't be downloading this app from the Play Store, do make sure that you're downloading the authentic version, and not any malware that may negatively affect your device's performance and present a security risk.
Also Read: How to Save GIFs on iPhone?
Frequently Asked Questions:
Q: Can I really get iPhone emojis on my Android device?
A: Yes, indeed you can! Although the native emojis on Android and iPhone are different, with a few steps you can get the iPhone style emojis on your Android device. It's a fun way to mix things up and enjoy a little bit of the Apple aesthetic on your Android phone.
Q: Will using iPhone emojis affect my Android device's performance?
A: Not at all. Installing iPhone emojis on your Android device simply changes the appearance of the emojis in your keyboard and does not have any significant impact on the performance of your device.
Q: Do I need to root my Android device to get iPhone emojis?
A: While there are methods that require rooting, it's not strictly necessary to root your Android device to get iPhone emojis. There are several apps available on the Google Play Store that can help you get the iPhone emojis without the need for rooting.
Q: Can I switch back to my original Android emojis after installing iPhone emojis?
A: Absolutely! If you decide you want to switch back to your original Android emojis, you can simply uninstall the app or the keyboard that you installed for the iPhone emojis. You will then revert back to your original set of Android emojis.
Conclusion
So, if you ever find yourself feeling nostalgic for your iPhone's emojis and wanting to recreate that experience on your Android device, or even if you're just bored of using the same old emojis on Android all the time, remember that you can easily get your hands on large libraries of exciting new emojis! Just follow any of the various straightforward methods described in this article to get access to Android emojis on your iPhone, and spice up your conversations!
We hoped you found this article on getting access to iPhone emojis on Android helpful! Happy texting!