Home Depot, a leading home improvement retail chain, is known not only for its vast range of products but also for its consumer-friendly policies. One such policy is their generous return policy, designed with the motto "Convenient Returns Made for Doers." With a primary intention to offer ease and convenience, Home Depot allows customers to return most purchases within 90 days, ensuring customer satisfaction and trust. This article will particularly focus on the intricacies of Home Depot's paint return policy.
Services Offered by Home Depot:
Home improvement products
Home services and installations
Tool and truck rentals
Home décor and furniture
Outdoor living products
Building materials
Electrical and plumbing supplies
Paint and painting tools
Appliances
Flooring and tiles
And many more…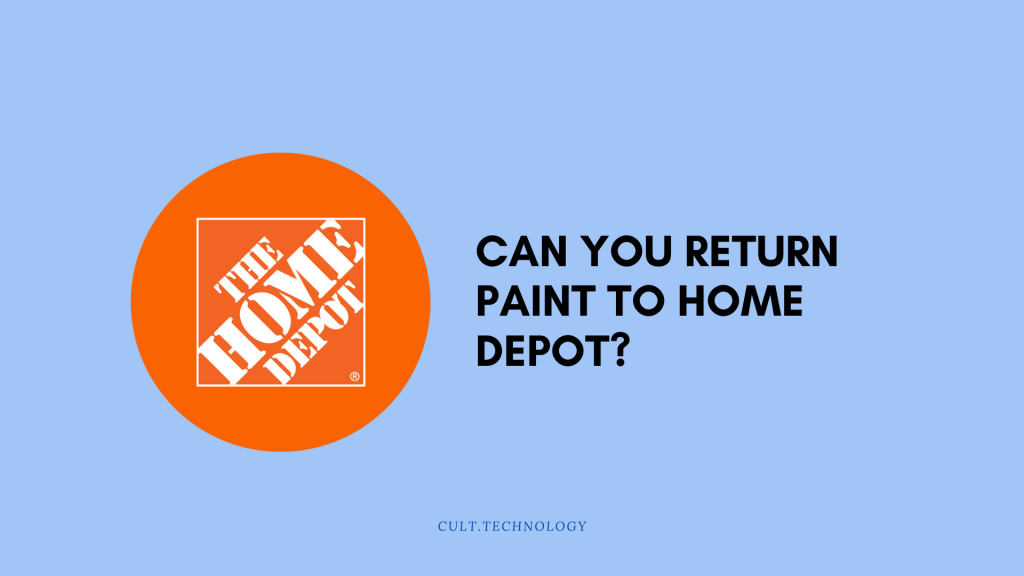 Can You Return Paint to Home Depot?
Yes, you can return paint to Home Depot, but there are specific terms and conditions you need to be aware of, which are detailed below.
What Is the Return Policy for Home Depot Paints?
Under Home Depot's "Paint Satisfaction Guarantee Policy," if you're unsatisfied with your interior or exterior liquid paint purchase, you can return the paint and its receipt within 30 days of the purchase. They commit to rectifying the issue by either correcting your paint or offering a comparable can of paint.
Terms and Conditions for Returning Paint
The guarantee does not cover application issues or surfaces that were not correctly prepared.
The policy excludes liquid stains, color samples, "OOPs" (store discounted mixed paint) merchandise, special order products, products from third parties or marketplaces, labor, and installation.
Home Depot reserves the right to limit the guarantee in cases of suspected fraud or abuse.
How to Return Paint to Home Depot?
Ensure that you have the paint and the original receipt.
Visit the nearest Home Depot store.
Approach the customer service desk and explain the reason for your return.
Depending on the reason, they might either correct your paint or offer a replacement.
Home Depot's Policy for Paint Returns Without Providing a Receipt:
For those who have misplaced their receipts, Home Depot might be able to locate it in their system. For purchases made using credit/debit cards or checks, they can find receipts within 90 days of the purchase.
However, for purchases made with The Home Depot Consumer Credit Card, Pro Xtra Credit Card, or The Home Depot Commercial Account, receipts might be located within 365 days of purchase.
Other Return Periods to Consider:
90 Days: This is the standard return window for most merchandise, including paint, as long as you have proof of purchase.
365 Days: If you made your purchase with The Home Depot Consumer Credit Card, The Home Depot Pro Xtra Credit Card, or The Home Depot Commercial Account, you have a full year to return items, with some exceptions.
30 Days: For specific items like furniture, gas-powered equipment, and consumer electronics.
48 Hours: Major appliances fall under this category.
Non-Returnable/Non-Refundable: This includes sales of gift cards, utility trailers, cut flowers, custom products, and certain other items.
Exchanges and Upgrades
While the main policy focuses on correcting the paint or offering a replacement, if you're looking to exchange for a different color or upgrade to a different type of paint, it would be subject to the store's discretion and availability.
Does Home Depot Accept Opened Paints?
Yes, Home Depot accepts opened paints, especially if the paint is not satisfactory or there's an issue with the color mix. However, it's essential to return it within the stipulated 30-day period.
How Is the Refund Issued When You Return Paint at Home Depot?
For Purchases with Receipt: Refunds for returns with a valid proof of purchase will be refunded to the original form of payment.
For Purchases Without a Receipt: If eligible, a store credit might be issued.
For Shipped Purchases: If the return is due to an error by Home Depot, original shipping charges will be fully refunded.
For Cash Purchases Exceeding $1,000: Refunds might be processed by a check sent from The Home Depot's corporate office.
Online Returns: Home Depot uses a third-party refund verification system. Not all items can be returned through mail due to safety hazards, especially those using flammable liquids or gases. For these, you'll need to return them to your local store.
Refunds: With a valid receipt, returns will be refunded to the original payment method. Without a receipt, Home Depot may still be able to find your purchase, especially if you used a credit card or their specific accounts.
Gift Returns: If the item was a gift, you could return it to a store and receive store credit.
Shipped Purchases: If the return is due to an error on Home Depot's part, the original shipping charges will be fully refunded.
Also Read: What is Costco's Mattress Return Policy?
Frequently Asked Questions
1. Can I return my homedepot.com paint purchase to a store?
Yes, paint items ordered online can be returned in-store. Home Depot can locate your purchase using your credit card, order number, or email.

2. How do I return an oversized or heavy paint product?
If a paint product is too large or heavy to be returned to a store or by mail, you can call an Online Customer Care Specialist at 1-800-430-3376. They will review your order and, if eligible, arrange a pickup from your home.

3. What if I purchased paint using an eGift card?
Any order purchased with an eGift card will only be returnable in stores.
4. How long does it take to receive a refund once I return a paint item?
If processed at the store, refunds are issued immediately during the return. For returns by mail, refunds are given upon receipt and processing of the return. Depending on the payment method used, it may take 2-10 business days for the refund to reflect in your account.
5. Are original shipping charges refunded for paint returns?
Original shipping charges are only refunded if there was an error on the part of The Home Depot.
6. How can I get a mailing label to ship my paint product back?
You can log into your Home Depot account and access your order history to start a return. Alternatively, chat online with or call Home Depot's Online Customer Care team at 1-800-430-3376.
7. What if the paint I want to return was a gift?
You can take your return to a Home Depot store to receive Store Credit.
Conclusion
In conclusion, Home Depot's return policy, particularly for paints, is designed to ensure customer satisfaction. Whether you've chosen the wrong shade of spray paint, or there's an issue with your mixed paint, or even if you simply have unopened or unused paint lying around, Home Depot's policy has got you covered. Always ensure you're familiar with their terms and conditions to make your return process smooth and hassle-free.