XNSPY is a prominent name in the spy world because of its intuitive features and seamless integration with a wide variety of smartphones. And because of this, it has been a reliable app to spy on mobile phones for over a decade now.
Since XNSPY took the spying industry by storm, other developers are following suit to come up with their own variations to get a piece of the pie. However, XNSPY has been around the block for a while now and has set a precedence for advanced tracking features, other apps have a lot of catching up to do.
In today's guide, we'll discuss the top contenders that are competing for the title of XNSPY's worthy adversaries. From their features to the user experience, we'll dissect each app to help you make an informed decision.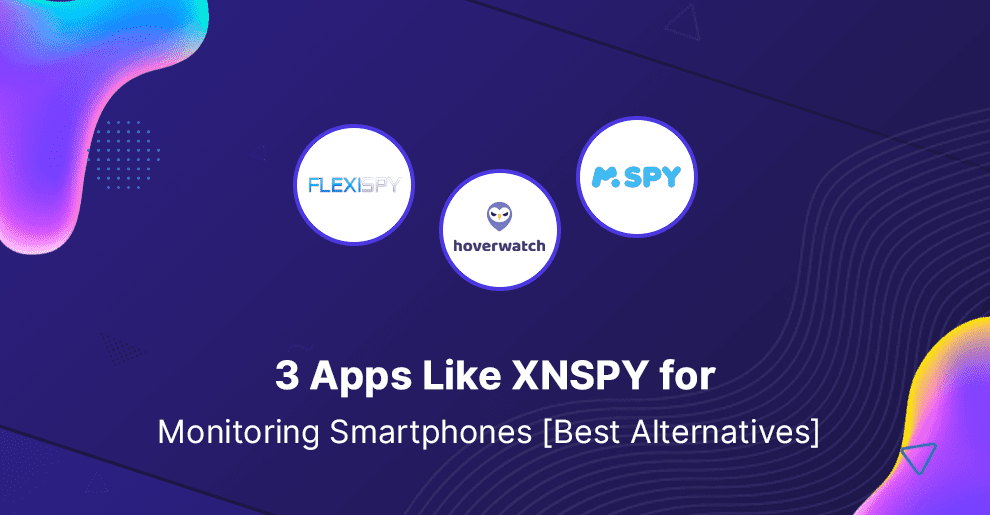 Why Has XNSPY Been So Dominant?
XNSPY has been popular in the monitoring world because of several different factors. These are:
Ease of use
Quick installation
Reliable customer support
High compatibility
Stable performance
Advanced features
We will discuss each of these in detail to build a benchmark against which to judge the rest of the apps.
Ease Of Use
When we were testing the app, we found XNSPY to be pretty easy to use and its installation was quick and easy to follow as well. This makes XNSPY highly accessible for people lacking technical skills. So you don't have to worry about the app being too difficult to use.
Quick Installation
XNSPY has a quick installation process. After the purchase, the XNSPY team sends you an email with the APK file and login credentials. You then download and install the app on the device you want to monitor by logging on to your dashboard. This whole process is completed in less than 10 minutes.
Reliable Customer Support
The XNSPY customer support is extremely helpful and responds to customer queries immediately in our experience. We were having difficulty processing payment and they helped us with that. Even the QA team called us back to ensure we were taken care of. They can also guide you through the installation process along the way.
High Compatibility
XNSPY is compatible with Android 4.0 and above and iOS 6.0+ devices. And we had no issues making it work on our Samsung Galaxy 7 which is a 7-year-old phone! So compared to other spy apps we have reviewed, it has high compatibility with a multitude of devices, even the older models.
Stable Performance
Stability is a part and parcel of any reliable software and after having tested XNSPY, the same is the case with it. The app performs reliably and we didn't notice any bugs or stability issues. Our phone didn't heat up during testing and neither was there any lag or dropped frames.
Advanced Features
Now comes the crux of the article, XNSPY's advanced features. The app's advanced features have been integral to its success and the most important factor in increasing its mass popularity.
Some of its most widely used monitoring features are geolocation tracking, geofencing, ambient recording, instant message recording, and remote control features. All of these features combine to make XNSPY an intricate app to spy on mobile phones.
Its features are what define XNSPY and set a benchmark standard against which other spy apps try to compete.
Let's look at each of the features.
Geolocation Tracking & Geofencing
You can see a target device's current location in real-time with XNSPY's geolocation tracker. Additionally, you can see the time/date stamps for each place as well as the target device's location history.
Geofencing builds upon its geolocation tracker and is meant to send alerts. You mark a radial region via your XNSPY dashboard so that when a device enters or leaves it in real-time, a notification is delivered to your dashboard immediately.
This lets you know precisely when the device entered or exited the specified area so you can act immediately and in a timely manner.
Instant Messaging & Social Media Recording
XNSPY can also take screenshots showing the device owner's in-app experience of any instant messaging and social media apps. The screenshots are crisp, in high resolution, and are taken every few seconds automatically.
They show every detail from every IM and social media app including news feed, friends list, search history, chats, and messages. This is the app's most robust feature as it allows protection from various social media threats such as addiction and scam artists.
Remote Control & Ambient Recording
Record Surround, Wipe Phone, Lock Phone, and Take Screenshot are just a few of the remote control options available on the spy software for immediate monitoring. A phone's microphone can be remotely activated by XNSPY to listen to its surroundings using the ambient recording capability that is found under the Record Surround option.
All phone data, including software, apps, shared media, etc., is deleted with the Wipe Phone feature. This results in a factory reset of the target device. Whereas, your device will be remotely locked or unlocked for you via Lock Phone.
When you press the button, Take Screenshot will capture a screenshot of the device and shows what the phone user is doing at that exact time. This makes XNSPY a reliable tool since you don't need the device to be physically present near you.
Find Out More About XNSPY Here
3 Best Monitoring Apps Competing For XNSPY's Crown
Now that our XNSPY analysis is out of the way, a baseline has been set and we can get into the alternate spy app section of the article. The apps we will be reviewing are:
Flexispy
Hoverwatch
mSpy
During our time testing each of the apps, we noticed that they had stable performance and good reliability but all 3 were lacking in one way or the other in the advanced features department.
Either they had some features missing or were not implemented to the same degree as XNSPY. We will discuss each in more detail now. Let's begin.
1. Flexispy
Because it enables you to view data on both PCs and phones, Flexispy is an all-around spy app for remotely tracking different devices. Flexispy is one of the most adaptable monitoring programs available, offering a variety of monitoring options and settings catered to customers' individual requirements.
Each of Flexispy's monitoring tools is well-defined, and the user interface is extremely engaging. Notifications are timely and easy to set up. With Flexispy, the emphasis is on keeping things straightforward and beginner-friendly.
Every time an instant messaging patch is issued, the app also gets an automatic update. It enables real-time tracking of all well-known instant messaging services, including Skype, Yahoo, Tinder, and iMessage. However, ambient recording is unquestionably its most well-liked function.
Flexispy's ambient recording features let you record the phone's surroundings and play them back at a later time. The audio recordings will be promptly posted to your online portal, and you can start recording right away or schedule it for a later time. But its range and audio fidelity aren't as well executed as XNSPY's.
2. Hoverwatch
Hoverwatch is yet another well-liked phone tracking application. It is perfect for folks who want to closely watch the gadget without interfering with its regular operations and combines parental control and remote monitoring into one practical product. It is perfect for users who want discretion because they can easily watch the phone user's actions remotely and secretly.
Using its most popular features, the browsing history and chat tracker, Hoverwatch can monitor the device owner's communication and web surfing patterns. The online history monitoring feature allows you to keep an eye on the internet behavior of device owners to make sure they aren't accessing pornographic websites or seeing graphic or violent content.
Keylogging, social media tracking, location tracking, and geofencing are a few additional advanced monitoring tools offered by the spy app. And both rooted and non-rooted Android smartphones can run the program, however, rooting isn't necessary for the majority of Hoverwatch's functionality.
The mobile phone tracking software is simple to use, even for inexperienced users who have no previous experience with Android rooting. Our only complaint is the app can slow down the target device and resetting it can be difficult.
3. mSpy
mSpy is another popular spy app. It offers a variety of fascinating mobile phone spying features that enable you to monitor iPhone and Android devices with ease.
mSpy is renowned for its parental controls and as an advanced application that enables you to remotely extract all phone data. Ambient recording, remote phone data wipe, geolocation tracking, and remote screenshots are a few of the features built into the application. It has a keylogger integrated as well.
All of these features are advanced but they don't allow to be used simultaneously which is a huge problem for people like me who want to monitor multiple devices at the same time.
The standard version of the app does not allow mSpy to track any social media messengers or communications sent and received on them either. On the other hand, XNSPY's all-encompassing spying program takes screenshots of instant messaging and social networking apps like WhatsApp, Telegram, Signal, and Viber in a single budget-friendly subscription option.
Is XNSPY Still The App To Choose?
Although the alternatives are a good stepping stone for anyone who doesn't know about XNSPY, it is still the ultimate app to get, and knocking it off its perch is a difficult ask.
XNSPY has been lucky that it was founded a few years earlier than these apps and so its experience has given it a massive advantage. Catching up to it will be difficult especially if other apps do not fix their shortcomings in the advanced features department.