Humans these days are fond of socializing with each other. Several applications and websites are available to chat and exchange communication. Videos, images, and texts are several ways to communicate with people. On that note, sites like Chatroulette and many of Chatroulette alternatives are available in the market, to chat with strangers.
Most people like to chat with random users and exchange their views and thoughts. Technologies have been very much updated and bored up time is balanced by a lot of entertaining platforms. Chatroulette is one of the video-calling websites to chat with strangers.
What is Chatroulette?
Chatroulette is an online chat website launched on November 16, 2009. The users can chat with the other users; they can text, audio call, or video call. This chat website is used mainly to chat with strangers. One user at a time can be video cam-ed and can leave a connection by initiating other random connections.
Video chatting with strangers is one of the new trends today. When you are bored at home, and even on pandemic days people tend to chat with strangers. So platforms like Chatroulette are the big ones to chat with random users to pass the time.
Chatting with strangers pushes users to have more fun, so they do fall on negativity. Mostly pornographic content is reported in previous years and a lot of safety measures increased to save the users from scams. Hence the website came with a new rule on creating an account for each user, when the user is reported more than three times then the account is banned.
As users find these websites with restrictions people may jump to Chatroulette alternatives. There are a lot of sites like Chatroulette on market.
Chatroulette is not available for iPhone users; there are several other choices for iPhone users. Below are the nine best Chatroulette alternatives.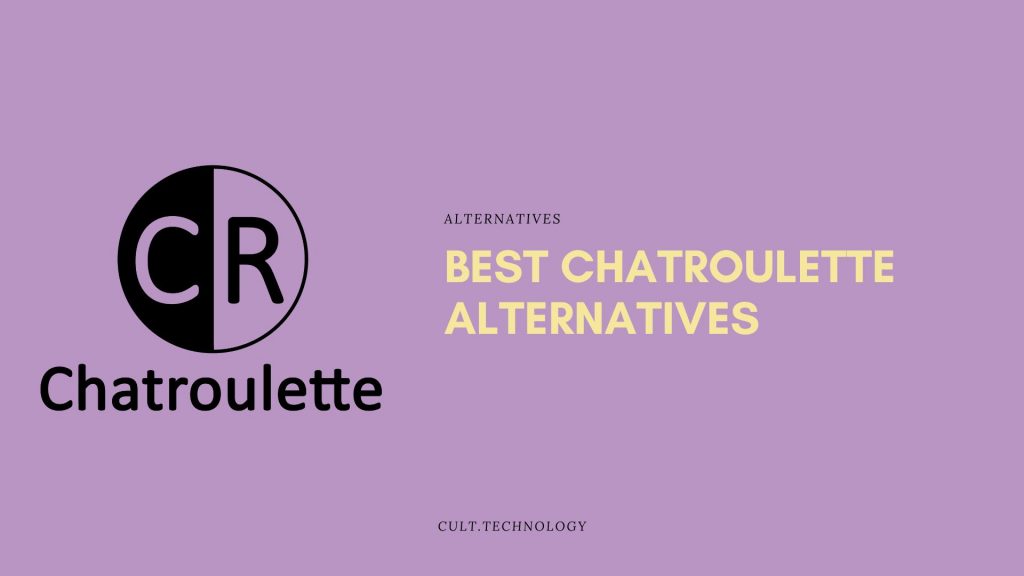 Comparative table
| Chatroulette Alternative | Platform Availability | Unique Features | Rating (out of 5) |
| --- | --- | --- | --- |
| 1. Omegle | Web, Mobile (unofficial apps) | Anonymous chats, interest-based matching | 4.5 |
| 2. MeowChat | Android, iOS | Nearby user exploration, group chats, point system | 4.0 |
| 3. CamSurf | Web, Android, iOS | Language and location filters | 4.2 |
| 4. Paltalk | Windows, Android, iOS | Chat rooms, millions of subscribers | 4.4 |
| 5. Chatrandom | Web, Android, iOS | Attractive user interface, anonymous chats | 4.3 |
| 6. Meetzur | Web | Social networking features, Facebook login | 3.8 |
| 7. Funyo | Web | Social network integration, group video calls | 4.1 |
| 8. Chatrandom (duplicate) | Web, Android, iOS | Multi-user chat rooms, anonymous chats | 4.3 |
| 9. TinyChat | Web | Chat rooms with multiple users, simple interface | 3.9 |
Chatroulette alternatives:
1) Omegle
The top first best chatroulette sites alternative is Omegle. When you use Omegle you can be paired randomly with other users. Omegle is a one-to-one chat service, and the users can be under an anonymous tag. The users are randomly paired and if the user wishes to pair on their interest mutual pairing is possible.
The users can stay anonymous until they reveal their details in their interest. Users must be 18 plus or 13 plus under parental guidance and supervision to use Omegle. Omegle also offers a text-only mode to chat with strangers; if the users wish to switch over to video, options are available.
2) MeowChat
MeowChat is an application only available on Android and iPhones. MeowChat allows the users to have one-on-one chats as well as in groups. The users can anonymously connect with the other users worldwide as well as nearby. The nearby user's profile can be easily viewed on the app, so anonymous details are recommended.
A range of ads are served to the users, and points are collected based on user favorites collected. Explore option is an add-on to MeowChat to explore nearby users and connect with them. MeowChatbest is one of the precise when we compare in terms of features that are having best chatroulette sites.
3) CamSurf
Camsurf is available as an online chat website and a smartphone app. The application is available for both Android and iPhone users. Camsurf is the same as Chatroulette, the users can anonymously chat with other users unless they share their details of interest.
In the CamSurf application, the user can filter other connections with language and locations. The website mode and the application mode are nearly the same but with a few more options on the application.
4) Paltalk
Paltalk is the top best Chatroulette alternative as it has millions of subscribers. The application is available for Windows, Android, and iOS users. As Paltalk has millions of users, you will not run out of strangers to chat with. Whenever you log in the users will chat online.
The chat rooms are available, where several users are added to share their ideas and mutual interests.
5) Chatrandom
Same as the above chat sites Chatrandom allows users to randomly chat with strangers. Account registration is not necessary to chat with the users, direct one-on-one chat is available.
The user interface of Chatrandom is attractive with an appealing design and makes it easy to connect with the users. Chatrandom is available on all platforms and accessible on Android and iOS.
6) Meetzur
Meetzur is the new online chat website, and it is the fastest growing website. Facebook account is used to log in to the Meetzur website. Meetzur is similar to social networking sites, where users can post, comment, and post images and videos.
One of the best Chatroulette alternatives is Meetzur to get in connection with amazing friends.
7) Funyo
Fun comprises an exclusive social network site to chat with random users. Funyo is the other best alternative to Chatroulette, where users can text, video, or audio chat.
Video chat can be made single or in groups. Around four users are allowed to have a video call. If you want to independently socialize with lots of options in a wide socio community Funyo is the best for you.
8) Chatrandom
Chatrandom is another leading website with a massive user base and a lot of chat options. The best feature of Chatrandom is it allows many users to chat in the chatroom. Like the other chat websites, Chatrandom users can also stay anonymous among random users.
Chantrandom has plenty of users and you will not put down with the scarcity of users. Every time you log in you will find a person chatting and having fun.
9) Tiny chat
Tiny chat is an alternative to Chatrandom, and it is a growing online chat website. The site doesn't have many features but it is a fast-growing user-based online chat website. The website allows chatting with single as well as multiple users.
The chat room contains several users, interested people can be connected and have a chat. With a fast internet connection, you can connect quickly with the users and do funny chats.
The above applications and websites are the alternatives to Chatroulette, similar and different features are available to chat with single users and as well as multiple users. Random users are chosen and chat is done for fun and entertainment.
Conclusion
There are several exciting Chatroulette alternatives available in 2023 for those looking to connect with strangers online. These platforms cater to various preferences, offering features such as anonymous chats, interest-based matching, language and location filters, chat rooms, social network integration, and more.
They are available on a variety of platforms, including web, Android, and iOS. By exploring these top 9 alternatives, users can find the perfect platform to make new friends, share interests, and have engaging conversations while maintaining a safe and enjoyable online experience.