Are you tired of endless scrolling in a bid to find old messages on your iPhone? With the constant stream of texts, social media notifications, and iMessages, it can be a daunting task to find that one important message you received weeks or months ago. This article provides you with easy and effective ways to find old messages on your iPhone without the hassle of scrolling.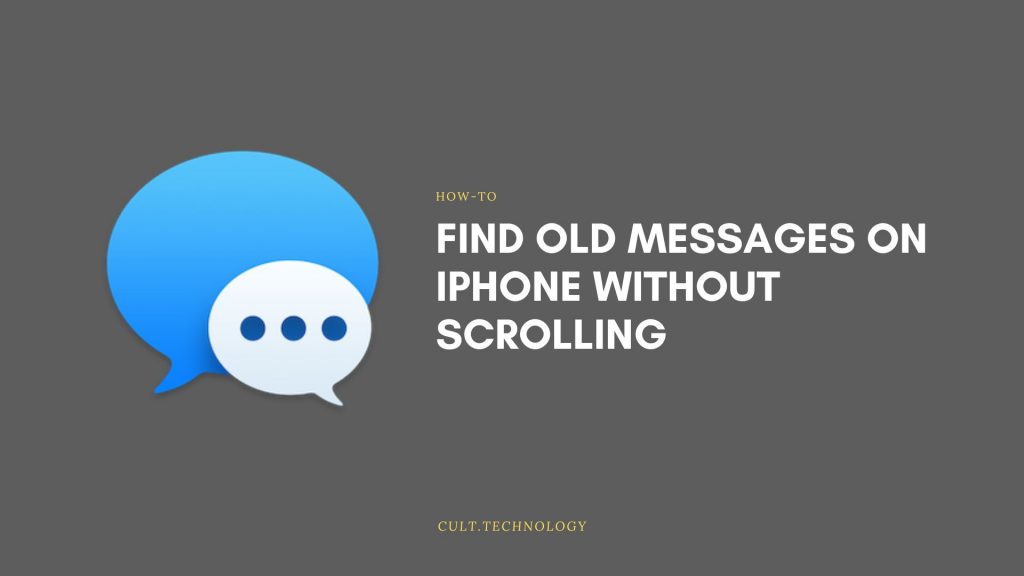 How to Find Old Message on iPhone
Here are the different ways to find old messages on your iPhone without scrolling.
1. Searching Messages Directly
Instead of scrolling, you can use the search function built into the Message app. Here's how:
Open the Messages app.
Pull down the screen to reveal the search bar at the top.
Type a keyword related to the message you're looking for. This could be a word from the message itself or the name of the sender.
The Messages app will show you all messages that contain the keyword you searched for. By doing so, it saves you from unnecessary scrolling through irrelevant messages. The better you remember specifics about the message, the more effective the search.
If you want to reply to an old text message, just tap on the "Compose" button in the upper right corner of your screen and type away!
2. Using Siri to Find Old Messages
Siri, Apple's voice-activated personal assistant, can also help you find old messages. Here's how you can utilize Siri:
Hold down the home button (or the power button on newer iPhones) to activate Siri.
Say something like, "Siri, find my messages from John Doe." Replace 'John Doe' with the name of the person whose messages you want to find.
Siri will pull up any recent messages from the person you named.
Please note that Siri can only find recent messages, so this method may not be suitable if you're looking for messages that are several months old.
3. Third-Party Applications
If you're unable to find your old messages using the built-in features of the iPhone, you might consider using third-party apps. Applications like iExplorer, PhoneRescue, or Dr.Fone can help you locate and manage old messages. Here's a simple guide on how to use these apps:
Download and install the third-party app of your choice.
Connect your iPhone to your computer.
Follow the instructions provided by the app to find your old messages.
Please remember that using third-party applications may pose some security risks. Always ensure that the app you're using is from a trusted source and has good reviews.
4. Using Spotlight Search
Spotlight search is a powerful tool integrated into iOS that can help you find specific items on your device quickly, including text messages. Here is how to use Spotlight search to find old messages:
Swipe down from the middle of any home screen to open Spotlight search.
Type in a keyword related to the message you're trying to find.
The results will include contacts, emails, messages, and other content that matches the keyword.
Tap on the message you were looking for when it appears in the search results.
5. Using The Hidden Scroll
Open the Message Thread: Open the specific conversation in which you're trying to locate an old message.
Tap the Top of the Screen: Here's where the hidden trick comes in. Simply tap the very top of the screen — where the clock is displayed — and you'll automatically be scrolled back to the top of your message thread. This might not take you directly to the old message you're looking for, but it does save you from manually scrolling through potentially thousands of messages.
Use the Search Bar: From here, you can then pull down slightly on the screen to reveal a search bar, where you can type in specific words or phrases to find the exact message you're looking for.
This method is a quick and efficient way to navigate long message threads and can help you find old messages on your iPhone without needing to manually scroll through your entire message history.
6. Managing Message Storage
iPhones have a setting that deletes messages after a certain period to save space. If you are unable to find an old message, it may be because it has been automatically deleted. You can manage this setting by:
Going to Settings > Messages > Keep Messages.
Here, you can select how long you want to keep messages: 30 days, 1 year, or forever.
To ensure that old messages are not deleted, select 'Forever'.
Remember, though, that choosing to keep messages forever may eventually take up considerable space on your iPhone.
How to Restore Deleted Messages on iPhone
You can recover all your messages using several methods, one of them is backup. Here is the guide on how to restore messages from a backup.
Backups and Restoring Messages
If you regularly back up your iPhone to iCloud or iTunes, you can restore your messages from a backup. This method can be useful if the message you're looking for has been deleted. Here's how you can do it:
Make sure you have a recent backup that would contain the message you're looking for.
Go to 'Settings' on your iPhone.
Tap on 'General,' then 'Reset.'
Choose 'Erase All Content and Settings.'
Your iPhone will restart and show the setup screen. Follow the instructions until you reach the 'Apps & Data' screen.
Choose 'Restore from iCloud Backup' or 'Restore from iTunes Backup.'
Sign in with your Apple ID and choose a backup.
Remember that this will erase all data on your iPhone and replace it with the data from the backup. You should only use this method as a last resort and ensure you have a recent backup of your current data.
Pin Important Messages
To avoid the hassle of finding old messages in the future, here are some tips:
iOS 14 and later versions allow you to pin conversations at the top of the Messages app. By doing so, you can easily access important messages without having to search or scroll.
Stepwise Guide to Pin a Message in iMessage
Open Messages in your iPad or iPhone
Go to the conversation thread that contains the item you want to pin
Tap and hold on the item
Now, tap on pin
A yellow pin icon will appear, signifying that the text has been successfully pinned.
Repeat the same process for unpin
Also Read: How to Use Clipboard on iPhone?
Frequently Asked Questions
How can I find specific old messages on my iPhone without scrolling through years of conversation?
You can easily find old messages by using the iPhone's in-built search functionality, Siri, or the lesser-known hidden scroll method.
Is it possible to use Siri to find old messages?
Yes, Siri can assist you in finding old messages. Simply activate Siri and ask it to find messages from a particular date or person.
What's the easiest way to reach the top of a message thread on my iPhone?
The easiest way is using the hidden scroll method. Simply open the thread, touch the clock at the top of your screen, and you'll be taken to the top of the conversation.
Can I search for old messages using a keyword or phrase?
Absolutely. In the Messages app, pull down the main screen to reveal the search bar. Type in the keyword or phrase you're looking for, and the results will show all messages containing that text.
Is there a way to access old messages if I've deleted the conversation?
Unfortunately, once a message thread is deleted, it can't be retrieved unless you've backed up your phone before deleting the conversation. Always backup your device to maintain access to old messages.
Conclusion
With the numerous messages we exchange daily, finding old messages on an iPhone can seem like finding a needle in a haystack. But with these methods – searching messages directly, using Siri, third-party apps, and backups, finding old messages becomes a breeze. Always remember to pin important conversations and back up your data regularly to avoid any future message-finding troubles.