Mobile slot machine games offer easy ways to kill time. You get the irresistible, unmistakable adrenaline rush associated with gambling, while not risking any real money (as long as the game is free), and you don't have to travel to an actual casino either.
Most slot games which are free to purchase contain a large number of options for in-app purchases; after all, the developers also have to earn some cash! However, all the games described here are completely free to download and play, and you can have a quite enjoyable experience without having to spend a single penny.
So, if you want to learn about the best free slot games for Android phones, just sit back and keep reading!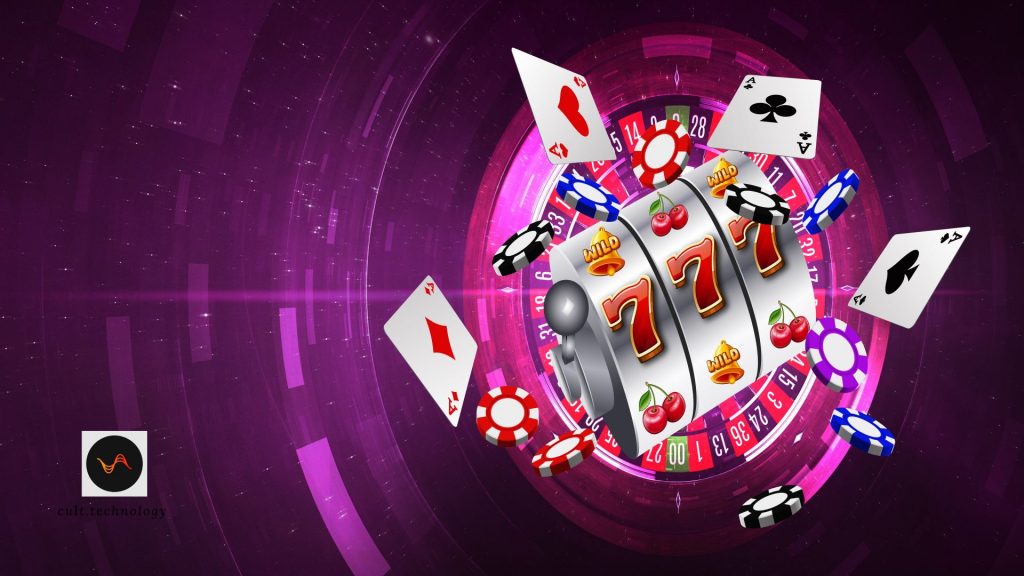 Free Slot Games for Android
| Game | Google Play Rating | Real Money Earning | Age Rating | In-game Purchases | Ads |
| --- | --- | --- | --- | --- | --- |
| Huuuge Casino Slots Vegas 777 | 4.2/5 (796k reviews) | No | 18+ | $1.03 – $338 | Yes |
| Lotsa Slots | 4.3/5 (433k reviews) | No | 18+ | $1.17 – $390 | Yes |
| Caesars Slots | 4.0/5 (607k reviews) | No | 18+ | $0.33 – $338 | Yes |
| POP! Slots | 4.2/5 (399k reviews) | No | 18+ | $0.85 – $338 | Yes |
| Vegas Jackpot Slots Casino | 4.3/5 (72k reviews) | No | 18+ | $1.65 – $83 | Yes |
| Hit it Rich! Casino Slots Game | 4.2/5 (503k reviews) | No | 18+ | $1.1 – $338 | Yes |
| Vegas Casino Pokies Slot Game | 4.8/5 (437k reviews) | No | 18+ | $0.85 – $338 | Yes |
Now, let's understand about each of these slot games in detail.
1. Huuuge Casino Slots Vegas 777
Huuuge Games is one of the most prolific developers of games for Android phones. Unsurprisingly, they have developed a large number of games for the mobile casino genre, such as Mega Win Slots, Billionaire Casino Slots 777 and last but not the least, Casino Slots Vegas 777.
If you want to try out one of Huuuge's titles, this is a good place to start. On Google Play, it has a 4.2/5 rating and over 10 million downloads, proving that it has been a wild hit with the public. Here, you can play on more than 100 slot machines, including stylised versions and retro classics such as Diamond Wins, Respin Ranch and Buffalo Rush.
To compete for a truly astounding prize, you can try out the Huuuge Link, a set of four slot machines that share a single mega jackpot reward. There's also a competitive multiplayer mode known as Billionaire League, where you can compete against both your friends, and other random users to win prizes.
If you like Casino Slots Vegas 777, you can try out some of Huuuge's other slot games. Most of these games require coins to play; you can either buy them, or you'll periodically get some coins for free.
2. Lotsa Slots
Lotsa Slots is one of the best free slot apps available for Android right now. You can try your hand at more than 80 free slot machines, and try to win exciting jackpots. The game's system of bonuses and progressive jackpots will keep you hooked to your mobile, and ensure that your experience never becomes boring or stale. The more times you spin, the bigger your bonuses are, so you'll be rewarded for consistently playing.
New slot machines are added every week, and you get free spins on all the slots. The games are designed by casino professionals, to ensure you get the authentic, thrilling gambling experience. When you first download the game, you'll get 2 million free coins to use on the slots, and if you want you can buy more. You can also complete quests and participate in daily events to win free coins and free spins on the slot machines.
You can invite your friends to play alongside you, or compete with players from across the world on the global leader board!
3. Caesar's Slots
Caesar's Slots ranks amongst the most enjoyable free slot games for Android phones. Here, you can enjoy access to a staggering number of slot machines – over 250, including popular games seen in real casinos like Harrah's Casino, Planet Hollywood Casino, and Flamingo Casino. You can also try out exotic modes like Aztec Jungle with its infinite jackpots, Wild Howl or King's Throne!
When you first download Caesar's Slots, you'll be gifted 100,000 free coins to get you started on the slot machines. You can get more coins from the generous daily bonuses, or if you're feeling generous and want to help out the developers you can purchase coins using real currency. If multiple people have access to your phone and you want to ensure that nothing untoward happens with your money, you can disable in-app purchases.
Each update adds more exciting games, so you don't have to worry about getting bored. If you enjoy this game, you can try out some of the developer's other titles, like House of Fun and World Series of Poker.
4. POP! Slots
Developed by Playstudios Inc., POP! Slots is one of the best free slots app. You can visit the virtual equivalents of famous real-world casinos like the Bellagio, Luxor, MGM Grand etc., and win exciting prizes. If you play enough, you can even achieve VIP status and earn free chips just by playing the games! Even normal players get chip bonuses every two hours, as well as daily bonuses.
This particular game is optimised to play with many people. You can participate in multiplayer tournaments that can have as many as 32 players, or simply invite your friends to compete with you. You're even incentivised to invite friends by the offer of slot freebies whenever you invite someone via Facebook.
The slot machines are inspired by those found in real casinos, and include the official MGM slot machines. New slot machines are added to the game on a regular basis, and the mega progressive jackpots and unique daily quests and events keep things fresh. An especially attractive feature is the stylish graphics design; the Backstage feature allows you to customise your avatar and dress.
5. Vegas Jackpot Slots Casino
This game was developed by Rocket Speed, a prominent developer of mobile casino games. It boasts of a variety of Vegas casino themed slot machines such as Twin Diamonds, Lucky Wolf, and Riches of Zeus, with huge reels and quick mega prizes. New machines are added every week to the already impressive collection of slots.
The slot machines themselves pay out a number of lavish bonuses, and you'll also regularly receive exciting offers for bonuses and coins in your mailbox. The excellent graphics will only enhance your enjoyment of this game. The best thing about Rocket Speed's games is that they can be played even without an internet connection, making them the perfect option to kill time if your internet connection ever gives out!
For those enthusiastic about casino games beyond just slot machines, the developers have promised to add other options like poker, blackjack, bingo and roulette in future updates.
6. Hit it Rich! Casino Slots Game
Another exciting free slot game for Android Phones is Zynga Slots. You can have fun with a diverse variety of slot machines, and unlock slot games played in the real Vegas casinos by leveling up over time. VIP Deluxe slots, such as Elvis, Marilyn Monroe and Game of Thrones themed slots are also available in this game. You can win bonuses like Double XP to level up faster, and free coins to fuel your virtual gambling sprees!
Upon logging in for the first time, you receive a bonus of 60 million coins to spend on the slots. You can then purchase more coins with real currency. You can also invite for Facebook Friends for a joint gaming experience on the slots!
If you liked Hit it Rich!, you can try out the other casino games from Zynga Slots, like The Wizard of Oz Slots and Willy Wonka Slots.
7. Vegas Casino Pokies Slot Games
A title from Super Lucky Casino, this free game pits you against other players in online casino slots tournaments to win enticing prizes. There are also periodic special slot events where you can increase your winnings exponentially. You get free bonuses every day, and can also play some slots for free.
Apart from traditional slots, there are poker machines with over 30 distinct themes. You can also try to Spin the Wheel and win daily prizes up to a staggering ten million coins. House Prize Jackpots and poker tournaments are other ways of earning coins on this platform. The bonus card games give you an opportunity to double your winnings.
If you're looking for a casino game that combines the thrill of slots with the skill of poker, this is the answer for you!
Frequently Asked Questions:
1. What are some of the best free slot games available for Android?
There are numerous free slot games available for Android users. Some of the top-rated ones include Zynga's Wizard of Oz Slots, Slotomania Slots, DoubleDown Casino Slots, and more. These games offer a range of slot machines with various themes and bonus games.
2. Are these free slot games truly free, or are there in-app purchases?
While these slot games can be downloaded and played for free, they often contain in-app purchases for additional coins, power-ups, or to remove ads. However, such purchases are optional, and you can still enjoy the games without spending any money.
3. Do I need an internet connection to play these free slot games on my Android device?
Many slot games require an internet connection as they offer online features like leaderboards or the ability to play with or against other players globally. However, some games might offer offline modes as well.
4. Can I win real money on these free slot games for Android?
Typically, free slot games are for entertainment purposes only, and you cannot win real money. However, there are some apps that offer sweepstakes model games where you can win real cash or prizes. Always check the game's terms and conditions before playing.
Conclusion
Casino slot games are easy to learn and understand, but endlessly thrilling to play. Whether you're playing alone or competing it friends, you're sure to experience a massive adrenaline rush!
We hope you enjoyed this list of the best free slot games for Android!