Chatting with your loved ones is fun! However, playing games while chatting online brings even more enjoyable. That's the exact reason why popular social media platforms like Facebook, iMessage etc came up with an option to play games. In this article, we will see how to play games on Messenger app.
A Messenger app is needed to send or receive messages on Facebook. Most of the users aren't aware of Messenger's feature which allows you to play games. But, games in Messenger are pretty appealing and get you hooked within minutes.
Before we walk you through the ways to play games in Messenger. Let's know about the Messenger app, the dynamic nature of Messenger is been alien to the masses, like the one which allows you to play games. So, let's find out the basic details about the Messenger app.
What is the Messenger?
Messenger is a popular social messaging app that runs under the parent company Meta(formerly known as Facebook). The use of Messenger is not limited to messaging. You can also play games in Messenger, in this post we're going to walk you through the easiest ways in which you can play games on facebook's Messenger app.
Messenger is a messaging app that allows users to converse through Facebook. Messenger is widely known for its accessibility. To be able to chat with someone on Facebook, you'll have to download the Messenger application on your phone. However, if you're using a laptop, then you can simply chat with anyone by logging into your Facebook account.
Here is the link to download the Facebook Messenger app –
Here're the features of the Messenger app
Share texts with your friend
Voice call
Video call
Group video call
Create Messenger rooms for meetings
Play games
Share photos and videos
These are some basic features of the Messenger app. Along with playing games in Messenger, you can also host a meeting of 50 people on Messenger in the Messenger room.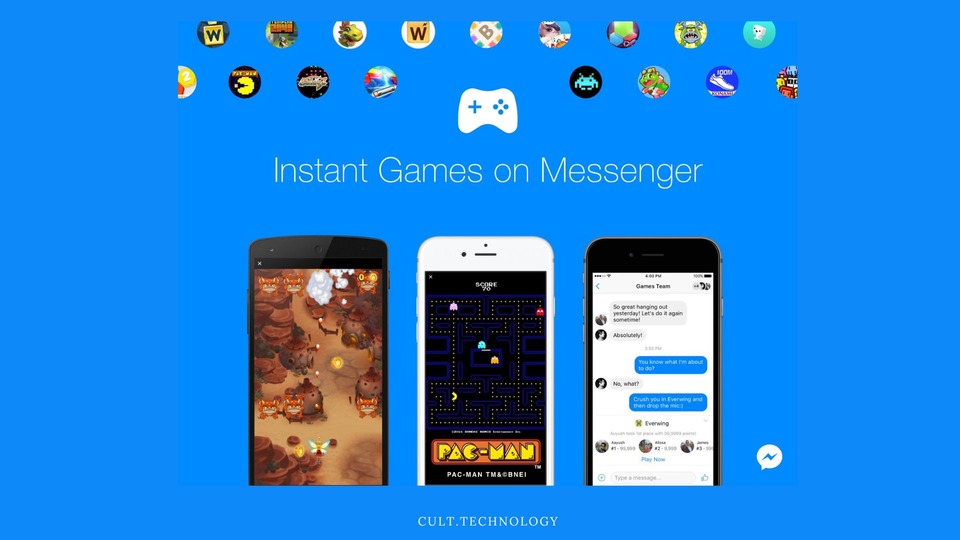 How to play games on Messenger?
You can play games with your friends on Facebook. The process to challenge your friend in a particular game is very simple.
To play games in Messenger you need to open a chat, at the bottom of the chat you'll see an icon with a gamepad. After clicking on that gamepad icon you'll see a list of games like snake, bingo, etc.
Following the process, you can send a challenge to the person in any game you'd like. Meanwhile, this is the way to play with your friend, what if you want to play alone? You can do that too. And the process is extremely simple.
Here's how you can play games in Messenger alone.
Open the Messenger app
Scroll down the section where all your chats are listed
You'll find a section called "Games"
Click on that and you'll see a list of games
This is a simple way to play games in the Messenger app without challenging anyone. As discussed earlier, there's a long list of games in Messenger that gets you hooked with minutes.
Messenger games are very popular amongst their users. And chances are high that you might've come across any of the games in Messenger. Here're a few games that you can play on Messenger.
Snake
Space Invaders
Solitaire
Blackjack
Sudoku
Pac-Man
These are a few popular games in Messenger that you can play with yourself or your friends.
Messenger rooms are another popular and widely used feature of Messenger, which provide convenience to its users. So, let's find out how Messenger rooms work and how can you create them.
What is the Messenger room?
Messenger room is another feature of the Messenger app, which can be used as a video conferencing app. You can host a meeting of up to 50 people at once. Along with group calls, you can also play games in Messenger rooms.
Now when we know the ways to use the Messenger rooms, let's know how to create Messenger rooms.
How to create Messenger rooms?
Open the Messenger app On your phone
Navigate to the "people" section
Click on "active" to see the number of active users
Click on "create a room"
You can send a link to your room to multiple people, they can join using that link. To join a Messenger room person doesn't need to be a Facebook user. Now, when we are aware of the dynamic features Messenger offers. Let's discuss how to play games in Messenger.
Conclusion
Facebook is a popular social media app and Messenger is its part which allows you to instantly send and receive messages on your mobile phone.
Messenger is used for various purposes. How you can use Messenger, in different ways is discussed in this post. However, the use of the Messenger app can be subjective.
You can chill and play games on Messenger with your friends, you can send various challenges to your friends. You can team up with your mates and play accordingly. We wish you a good time playing with your friends.
We hope you found this post informative and helpful.